5 Diet Friendly Indian Breakfasts! (Veg)
Eat breakfast like a king, lunch like a prince, and dinner like a pauper.
–Adelle Davis
Diet doesn't mean skip your meals and make yourself starving. Diet means cut down your sugar, take a certain and healthy amount of carbs, calories, protein, salt, and fat which makes you fit. Making a diet plan is really easy but follow it properly is really difficult. Breakfast is the most important part of your daily meal plan and this is the first meal of the day so this should be proper and filling. You should eat breakfast till 10:30 AM. Here I am going to tell you about 5 tasty, healthy, and low calories Indian breakfasts.
1. POHA (Flatten Rice)
Serving: 70 grams
Calories: 79
Carbohydrates: 17.9 g
Fat: 0.1 grams
Protein: 1.4 grams
Poha is a famous Indian breakfast which is tasty and filling. According to the nutrition values it is low in calories, carbs and fat. It's really easy to prepare and digest because flatten rice is made by parboiling paddy and drying it out in sun for few hours.
Poha: https://yellowbowlrecipes.com/2019/05/23/poha/
2. IDLI-SAMBAR
Serving: 100 grams + 1 small bowl sambar with lots of veggies + mint coriander chutney
Nutrition in 100 grams Idli
Calories: 135
Carbohydrates: 26.31 g
Fat: 0.62 g
Protein: 6.36 g
Idlis are one of the most famous Indian breakfast which is a South Indian cuisine. This breakfast is very healthy and easy to digest for every age group people. It's a fermented and steamed dish, according to studies fermented foods enable better breakdown of minerals and vitamins in our body, which further helps in digestion.
Idli-Sambar: https://yellowbowlrecipes.com/?s=idli+sambar
Mint-coriander chutney: https://yellowbowlrecipes.com/2018/12/31/3-types-of-sauces/
3. BROWN BREAD SANDWICH
Serving: 2 sandwiches (4 medium size bread slices)
Nutrition in 4 bread slices
Calories: 292
Carbohydrates: 56 g
Fat: 3.2 g
Protein: 10.8 g
Brown bread is more healthy than white bread according to the nutrition values. Eating brown bread sandwich with lots of veggies and Indian cottage cheese or tofu, without oil, butter, and cheese is a complete healthy breakfast meal with full of nutrition. Use raw veggies like: cucumber, tomato, cabbage, bell peppers, carrot etc. and herbs like: basil, parsley, thyme.
4. OATMEAL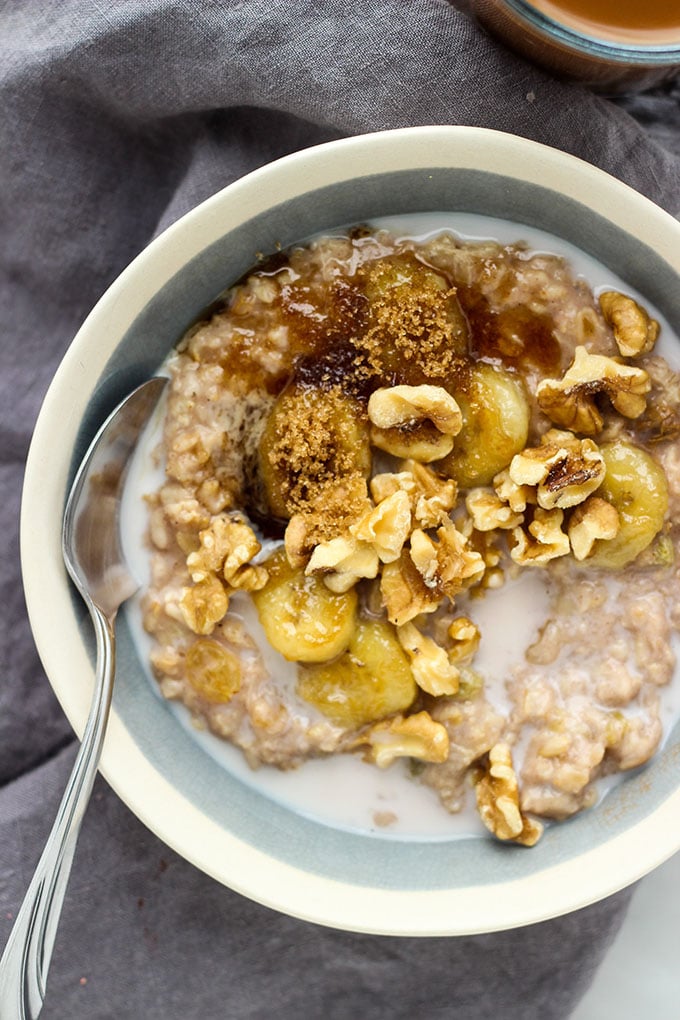 Serving: 100 grams
Nutrition in dry 100 grams oatmeal
Calories: 68
Carbohydrates: 12 g
Fat: 1.4 g
Protein: 2.4 g
Oats are very nutritious and filling breakfast which can help you to reduce weight. It is delicious in taste and easy to digest. You can make masala oats which is really tasty and if you are making oatmeal with milk then use skimmed milk and do not add sugar. You can add 1 teaspoon honey instead of sugar. Add 1 fruit which is low in sugar like: apple, guava, peach etc. You can add 1 small banana as well and add nuts like: almonds, walnuts, pistachios etc. But remember use in a certain and healthy amount.
Masala oatmeal: https://yellowbowlrecipes.com/?s=masala+oats
5. UPMA
Serving: 50 grams
Nutrition in 50 grams upma
Calories: 104.5
Carbohydrates: 19.03 g
Fat: 1.57 g
Protein: 3.38 g
Upma is a healthy and tasty South Indian breakfast which is made of semolina. This dish is low in calories and carbohydrates. Semolina is rich in iron, cholesterol free, made of whole wheat, filling, and full of nutrition.
Upma: https://yellowbowlrecipes.com/2019/01/17/masala-upma/
Try these healthy and tasty dishes in your breakfast and enjoy your first and very important meal of the day. If you'll find any benefit please share your experience in comment section. I'll be there with my next diet friendly blog post soon.
THANKS FOR YOUR TIME READING THIS ARTICLE. SHOW SOME LOVE BY LIKING, SHARING AND FOLLOWING MY BLOG. AND IF YOU THINK THIS ARTICLE CAN BE USEFUL FOR SOMEONE YOU KNOW, PLEASE FEEL FREE TO SHARE ON FACEBOOK, TWITTER, LINKEDIN OR ANYWHERE YOU WANT! 🙂
Hello There!
I am Abhilasha, a housewife, health enthusiast, a cook and everything in between!
Welcome to my blog where I'll be posting easy and homemade recipes.
Stay tuned and don't forget to follow my blog! :)